26mar8:30 am3:30 pmBPI Energy Auditor (EA) Certification - WRITTEN ONLY (C911)
Event Details

**Please note: Prior to taking the exam, you will need an approval letter from BPI. Please see below for more information**

Building Performance Institute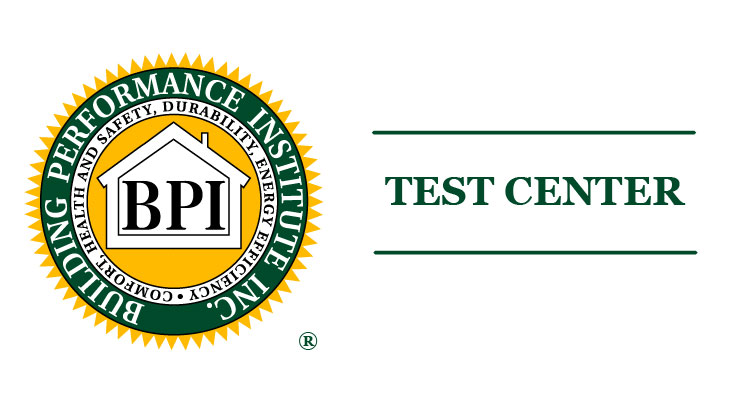 Prerequisites required: Candidates must meet certain education and experience prerequisites prior to taking the online and/or field certification exams. Please read the Prerequisites document for Energy Auditor certification.
Preparing for the EA Exam(s) (from www.bpi.org):
Download the latest version of the BPI Energy Auditor scheme handbook from www.bpi.org
Read and understand all information
Refer to the Job Task Analysis to be sure that you understand and can perform the tasks required for this certification
Obtain reference materials for the multiple-choice and/or field exams and study well in advance of taking the exam
Download the Application for BPI Energy Auditor Certification from www.bpi.org and submit to HEPCertification@bpi.org. Application processing could take several weeks before a candidate will receive an approval letter to take the exam. It is recommended that a candidate submit their application at least thirty (30) days prior to their preferred exam date. Please do NOT schedule your exam date(s) until you receive your approval letter from BPI.
Energy Auditor Certification
Written Exam ONLY – $325.00 (Field exam is a separate registration. Please see www.bpctrain.org for dates)
Schedule:
WRITTEN Exam
8:30 a.m. – 10:30 a.m.
1:30 p.m. – 3:30 p.m.
Cancellation: In the event of cancellation the following fees apply:
Fourteen (14) calendar days or more prior to date: 25% of fees
Thirteen (13) calendar days to 72 hours prior to date: 50% of fees
Less than 72 hours prior to exam date: 75% of fees
Please note: Circumstances beyond control of the candidate will be evaluated on a case by case basis.
Time

(Thursday) 8:30 am - 3:30 pm
Location

Building Performance Center

3406 Redwood Ave.